About Us
Your single source for fire safety solutions
For over 40 years, Fire Pros has been the leading fire protection company in the Midwest. Our wide range of services will meet your property's unique fire safety challenges, from special hazard fire suppression systems and fire sprinklers to emergency lighting and more!
Our highly trained team members can do it all —inspections, repairs, design, installation, and monitoring businesses' fire protection equipment throughout West Michigan, offering 24-hour emergency service. Our crew also provides fire safety training and inspections to keep your business up to code. When you're ready to protect your property, you can be confident when you partner with Fire Pros.
"They know their stuff! On time, friendly, professional, knowledgeable, job done! What more could you want?"
Beth at Good Shepherd Lutheran Church
"We have worked with Fire Pros for many years and have always had very positive experiences. I would refer other companies to them for services without hesitation."
Kim at Apex Spring & Stamping Corporation
"Always have a great experience with Fire Pros. Take all the burden of worry off of us!"
Cristy at ZD Metal Products
"Very nice job. Polite and knowledgeable technicians. Great job every time they come."
Patsy at Spectrum Community Services
"They are professional and quick! They know what they're doing and are always great to deal with."
Steffanie at Comfort Inn
Discover the
Fire Pros Difference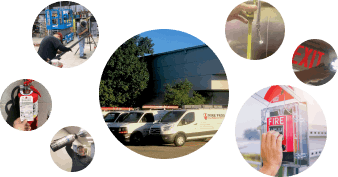 Join Our Team Today!
At Fire Pros, we understand that the success of our business lies in our team members' continued passion for the fire safety industry. As a member of our team, you'll receive continuing education, career growth opportunities, and more!
Learn More